Join us throughout the day as we share what's happening behind the scenes, on stage, and in the hallways at Inman Connect San Francisco.
4.03pm: Thanks so much for following along today – what an amazing set of sessions. Make sure you tune-in at 9am PDT tomorrow morning for more live coverage, and for those of you that want to watch the main sessions, remember there's also our exclusive livestream.
3.58pm: via Marci James on Twitter: Loved meeting the amazing @adelinarotar this week! Great job on stage Adelina!

And you too @ViaVija! The two of you rocked! #ICSF
3.39pm: via Julie Tambussi on Twitter: No surprise that there's a full house for this #ICSF session – "How To Train Your Team So Well You Can Take a Real Vacation". @InmanConnect #realestate
3.34pm:
3.20pm: via Andrea Geller, Instagram: Who knew? @thatpeterbrewer is for rent! #ICSF#RentMe #Ambassador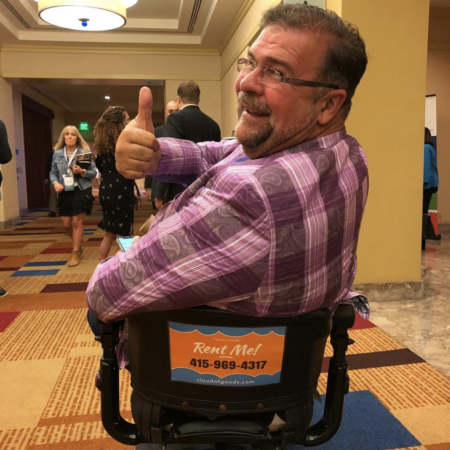 3.18pm: via Debbie Biery on Twitter Love this serious #GirlPower @InmanConnect – these women are awesome! #ICSF
3.01pm: via AllThings BHGRE on Twitter: Panel discussing how to "get agents to use the leads you are paying for" #BrokerConnect #ICSF #ICSF18 #BHGRE
2.58pm: via Billy Ekofo on Twitter: We are talking now about training your team so that you can take a real vacation in the #TeamTrack . One key takeaway- we don't have to be masters at everything before making the right hire. Create autonomy in order to empower your employees to give you the best. #ICSF
2.53pm: via Molly McKinley on Facebook: Next up, Valerie Garcia! Can't wait to launch season 2 of First Person! In case you've missed Season 1, check it out here www.first.io/first-Person
2.51pm: 
2.47pm:
2.30pm: via Billy Ekofo on Twitter: Interesting discussion here at the #TeamTrack about hiring the right people on your team. The current panel is a strong advocate for the Case Method (Think Consulting interview). How do you hire your team? What method do you use to hire? #ICSF – at Hilton San Francisco Union Square
2.12pm: Andrea Brambila, Inman: Gary Keller slams real estate startups, refuses to sit down The co-founder of Keller Williams took to the stage of Inman Connect San Francisco to warn that Redfin, Opendoor and others would ditch agents if they could
1.47pm: Patrick Kearns, Inman: Redfin CEO addresses the industry's role in perpetuating housing segregation, Kelman commits to hiring more agents of color to address racial segregation in real estate
1.35pm: via Julie Tambussi on Twitter: We had such a great group of people at our @InmanConnect Ambassador Lunch today at @BartlettHallSF. Loved chatting about marketing + indie brokerages with you all! #ICSF
1.10pm: via Andrea Geller on Facebook: #ICSF Ambassador Micro Networking Lunch. So much fun meeting people from all over the US and Canada. We all made some new friends and spent time with some people we already love!
1:02 p.m.: We're breaking for lunch now, but check out this pic from the Wall St. panel discussion featuring Mauricio Umansky, CEO of The Agency; Clelia Peters co-founder and advisor at Warburg Realty and MetaProp; and Andrew Left, an activist short seller, author, and editor at Citron Research.
And this pic from Chelsea Peitz, president and co-founder of The Agent Marketer from her well-reviewed debut session, "I Am Social, and Social Is Me."
Also a big shoutout and thanks to our on-site photographer Scott Chernis, who has previously photographed presidents and other notables.
12:29 p.m.: Read our full and continually updating recap of Gary Keller's talk at Inman Connect San Francisco here: Gary Keller slams real estate startups, refuses to sit down
11:55 a.m.: Glenn Kelman, CEO of Redfin is speaking now on the issues of race and housing discrimination in real estate. Audience members are welcoming the frank and constructive talk on how real estate can do better:
Great points from @glennkelman on race and real estate. Real estate agents are integral to how neighborhoods grow and change. Financial literacy is a huge part of making sure everyone gets opportunities to buy. #icsf

— Deidre (@Deidre) July 18, 2018
Before that, a large panel of leaders including Clelia Peters co-founder and advisor at Warburg Realty and MetaProp; Glenn Sanford Chairman, CEO and founder of eXp World Holdings; Eric Eckardt CEO of Purplebricks' U.S. division; and Joshua Hunt, founder and CEO of discount brokerage Trelora, all discussed the new business models shaking up the industry.
11:02 a.m.: Keller and Inman's discussion was equal parts insightful and entertaining:
Actual picture of GK and Brad talking #ICSF pic.twitter.com/sSRq5fn8Z7

— Tara L Christianson (@techwithtlc) July 18, 2018
Utterly fascinating presentation from @garykeller at #ICSF. In V(oyeurism)-S(earch)-C(onsideration)-C(lose)-O(wnership) homebuying process, tech can now cover VSC. Agents need to start asking when will it cover CO, & will agents be the fiduciary or the functionary at that stage?

— Kathryn Royster (@KathrynRoyster) July 18, 2018
10:52 a.m.: A firecracker of a panel, with attendees enjoying the debate between moderator and speaker. Full report on it coming soon on Inman.com.
Brad and Gary, on basically everything. #ICSF pic.twitter.com/A3CB8ACLNE

— Chris Haran (@ChrisHaran) July 18, 2018
So Gary Keller is educating Brad Inman…… 😳 #ICSF pic.twitter.com/Hhk7P0A4Do

— Laurie Weston Davis (@lauriewdavis) July 18, 2018
Haven't seen a battle like this since "We're gonna need a bigger boat" #jaws #ICSF

— Bret Calltharp (@JediRealEstate) July 18, 2018
10:48 a.m.: Moderator Brad Inman is struggling to get Gary Keller to sit with him. Keller cannot be contained!
Current atmosphere on stage. This doggy is getting away. #ICSF pic.twitter.com/whFNKTQ1IC

— Chris Haran (@ChrisHaran) July 18, 2018
10:43 a.m.: The audience is eating up Keller's words.
10:39 a.m.: Keller is speaking about the state of the industry and the tech-driven changes ahead:
"Data" + "AI" = Fourth Industrial Revolution@garykeller dropping some knowledge at @InmanConnect #ICSF #flipchart pic.twitter.com/iKYojxloVO

— SCCAOR (@SCCAOR) July 18, 2018
$217 trillion industry. Extreme fragmentation with 1000s of brokerages having a piece of the pie. An industry that that is slower to adapt. No Uber/Lyft emerge yet. Gary Keller is right saying the industry hasn't even started yet. #ICSF

— William Grewal (@WillGrewal) July 18, 2018
10:35 a.m.: Gary Keller is on-stage in his first such appearance outside a Keller Williams event in 10 years:
10:19 a.m.: Energy is building for Gary Keller, who's about to take the stage in the Grand Ballroom.
Excited to watch Gary Keller address Inman Connect in few minutes #icsf #upperleftkw

— Bruce Hardie (@brucehardie) July 18, 2018
Gary Keller is about to tell the world that the Real Estate industry is about to change @InmanConnect #ICSF #LABS #kellerwilliams

— Voorhees Team (@VoorheesTeam) July 18, 2018
10:04 a.m.: The Parker Principles get a shoutout from "Design for Good: Architecture for Everyone" speaker John Cary.
Pay especial attention to these Parker Principles, says @johncary #ICSF pic.twitter.com/stnoJ1N70P

— Tara L Christianson (@techwithtlc) July 18, 2018
@johncary Fantastic presentation about the future of permanent housing needs with beautiful examples of what's possible architecturally. "Dignity in design" #ICSF

— Brenton Hudak (@BrentonHudak) July 18, 2018
9:52 a.m.: More updates from the opening panel, which was titled: "Real Estate in 2020: Here is What It Looks Like," and featured: Clelia Peters, co-founder and advisor at Warburg Realty and MetaProp; Mike DelPrete, a strategic advisor of real estate tech; Brad Inman, founder of Inman; Jeremy Wacksman, president of the Zillow brand; and Vija Williams, CEO, Principal, The Vija Group at Keller Williams.
"Zillow offers is about choice. It's a great tool for sellers to have a choice. They want a service level." – @jwacksman also noting the vast majority of consumers opt to go traditional and use an agent #icsf #zillow

— Bret Calltharp (@JediRealEstate) July 18, 2018
Consumers want options. The decision is based on service levels. #ICSF #EVAmericas

— Katelyn Castellano (@kfcastellano) July 18, 2018
9:35 a.m.: Updates from the opening panel discussion:
Real Estate in 2020: Brokerage into three models – templated things done by robots/customer service reps, employee models, and high value, complex market models #ICSF

— katesax (@katesax) July 18, 2018
#ICSF 18 "People who excel in this industry are able to build the connection – not because they're cheesy sales people – but because they truly understand the needs of the buyers and sellers – and they can actually add value to that transaction. #RealEstateSuccess @cleliapeters

— Imprev, Inc. (@ImprevInc) July 18, 2018
There is going to be greater pressure for traditional brokers to deliver high value" #ICSF pic.twitter.com/fmHS9yti8x

— Laurie Weston Davis (@lauriewdavis) July 18, 2018
9:33 a.m.: Lots of news already hit Inman this morning in advance of the conference start, from Compass launching its new Powered by Compass program to license tech out to other brokerages to Zillow Instant Offers expanding to Atlanta to Reali raising another $20 million. Follow along and get caught up on all these articles here.
9:22 a.m.: Brad Inman in his element on stage.
9:01 a.m: The Grand Ballroom is packed for the day's sessions, where Inman founder Brad Inman just took the stage. "This is the best and brightest of the real estate industry," he said.
8:55 a.m.: Early risers are enjoying today's "Meet the Leaders" networking session with industry titans from Keller Williams, Compass, Dotloop and more.
Day Two! Let's Go! Looking forward to "Meet the Leaders" #ICSF #icsf18 pic.twitter.com/A026AsmwdF

— Juhmad M. Hollis (@sillohjm) July 18, 2018
8:52 a.m.: Good morning! Everyone's getting ready for Day 2 in San Francisco after a fun night to cap off Day 1.
Have something you'd like to contribute to the liveblog? Please send to us press@sandbox.inman.com.