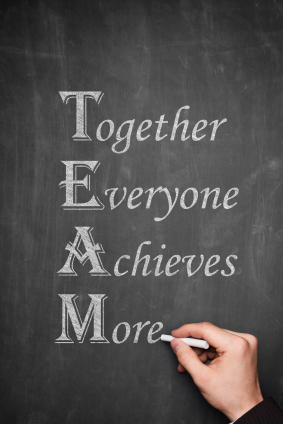 Go ahead, admit it, there is a control freak in you. It's in all of us. When it comes to deciding to delegate parts of your business to another person, or a new team member, not only is it important to know what qualities you would like to have in that person, it is even more important to have a plan! Whether you are ready to delegate a lot or a little, that plan can and will set you up for success in your partnership with an assistant or additional team member.
Know when it's time to ask for help!
Set some time aside to look at your business goals, and find the area that is zapping most of your income-producing time. Is it lead generation, contact management, marketing, listing coordination, or another area?  What tasks, or series of tasks, do you feel comfortable delegating?  Go through on paper, your day to day duties, and decide what to delegate, how much to delegate, and what you could delegate later once your partnership is well underway.
Provided below is a Delegation Checklist that not only can serve as a general list of easily delegated tasks, but are also the common talents and services available in the repertoire of an assistant or VA.  If you find that your needs are best assisted within one or two major areas, then you know where to focus yourself as well as your team member.
      Listing Coordination
Prepare Pre-listing Packet, CMA and other marketing materials for listing presentation
If approved by local MLS, input listings, and manage updates etc.
Arrange for Home Stager
Prepare and write well-written ad copy for the listings for coordinated placement in marketing materials
Create and send Just Listed postcards
Design & send to printer property flyers/brochures/postcards
Order/ create/post Virtual Tour on web sites
Create print ads for open houses for approval by you
Input listings into all web sites, and manage updates and changes
Enhance listings on Realtor.com
Create branded HTML ads/Postlets for use in Craigslist.com and others.
Prepare Open House materials
Prepare Seller Reports to keep sellers informed of web traffic on their listing
Set up and manage showing feedback information
Create, update and maintain all single property web sites
      Marketing & Lead Generation
Maintain computer based contact management and lead generation system
Design and create system for drip-email campaigns
Design direct mail marketing system to databases
Design flyers, postcards, and multi media materials
Manage and update community/neighborhood web sites
Create and run FSBO and Expired Listing campaigns
Newsletter program (printed or web-based)
Create & design Relocation materials
Create & design First Time Home Buyer Packets
      Client Relations Management & Retention
Send out relocation packages
Respond to online inquiries
Manage the purchase & delivery of client closing gifts
Coordinate appointments
Send out special occasion cards, reminders, announcements and newsletters
Put past clients on a retention email- drip campaign
Think about planning an annual client thank you event
Other
      Transaction Management
Manage transaction via OTM (Online Transaction Management system, ex: Settlement Room, Relay)
Schedule inspection appointments
Coordinate lender appointments and track loan process
Coordinate closing dates & times
Other
Additional tips:
Set up systems for your business that are easy to use in collaboration. Google Docs, Dropbox, Skype, a good lead management platform, get as much into the cloud as you can.
Have a good communication plan. Whether it's email, text, or a meeting once a week, make sure you have a blocked time planned to communicate, get on the same page, brainstorm.
Give positive feeedback! Everyone likes to know if they are doing a good job, not just when they made a mistake.
"The most important thing when delegating is trusting that you have the right people on your bus and that it's going to get done. Having to go back over what you delegated doesn't save anyone time." adds, Lisa Archer of Live, Love, Charlotte
Start small. Start with one or two tasks that you can delegate. See how it helps free up your time.  Finding specialists can do more than just assist, they can be pro-active in discovering and executing those core aspects. Don't let average people, average marketing, and average administration be the status quo of your business, or that is what you will get…average results.
There is no substitute for a great assistant, and to take your business to the next level, you will have to hire great people. But if you're not ready to hire an assistant, hire the right technology. You focus on what you do best! Don't let your control freak get the best of your business.